Cross Country Season
Cross country is up and running!
A Look Back on Track Season
CONGRATULATIONS TO OUR 2020 INDOOR TRACK & FIELD ATHLETES QUALIFYING TO THE STATE MEET! The meet will be held this weekend at SPIRE Institute in Geneva, Ohio
Saturday, March 7th, 2020: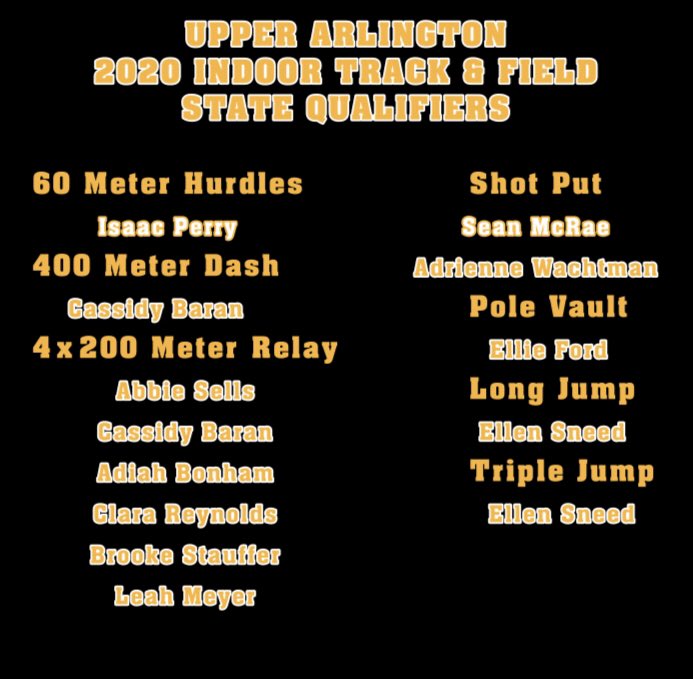 2020 Outdoor Track & Field Season
8to18 Reminder to sign up your athlete on 8to18 as soon as possible. https://uahs.8to18.com Also, your child's physical must be current (June 2019 – NOW will be considered current for this season).
Mandatory Practice has started! Its every Monday-Friday 3:45pm

Gear Required
Spring in Ohio is anything but predictable. In order to be prepared for practice, athletes should come with layers to run in (shorts/tights, jogging pants, socks, t-shirt/tank, long sleeve shirt, jacket, head gear and gloves). Appropriate running shoes are also required. No Vans, slip-ons, boots, Converse, etc.
FleetFeet/Frontrunner Discount
Student Athletes are eligible for 20% off running shoes during the season at FF/FR. The store is located at 1344 W Lane Ave, Columbus, OH 43221 and is a specialty running shoe store. If you are looking for a properly fitted shoe, this is the place to go. Tell them at checkout that you run for UAHS to receive the discount. FF/FR will donate $10 back to the team for every shoe purchased. Win-win!
UAXCTF Board
We are always looking for more parent volunteers to join our board. Read more about this opportunity here: https://uaxctf.com/boosters/
Board Meetings @ 630pm First Floor LC
Looking for other ways to get involved with our Golden Bears? Check out the Boosters page!
#WERUNUA